About the program
Blues for Mister Charlie (Fall 2018).
The B.F.A. in Acting major is an intensive program that educates and trains students for professional careers in acting. Our curriculum prepares students for successful professional careers while giving them the education to be  global citizens and contributors to society.  This major offers education and training in contemporary acting, acting in period styles, and acting in Shakespeare. The B.F.A. in Acting major incorporates the study of voice and speech, as well as movement, along with the study of script analysis, dramatic literature, and theatre history, in our curriculum.  This B.F.A. in Acting is a unique 60-credit hour B.F.A. program.  Most conservatory-style B.F.A programs require 90-credit hours in theatre courses to receive the degree and thus are not able to offer the depth of liberal arts education that Marymount Manhattan provides.  This liberal arts education prepares our students with the knowledge and insight needed for the challenge presented by the content found in contemporary theatre, film, television and digital media.   In addition, students have the opportunity to add to their performance training during the junior and senior years by taking performance electives that are offered such as Acting for the Camera, Audition Techniques, Voice and Speech Practicum, Dialects for the Stage, and The Business of Acting, a course which culminates in a professional acting showcase for casting directors and agents in New York City during the Spring semester of the senior year.
OUR CORE CURRICULUM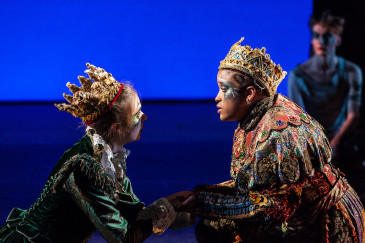 Hamlet (Fall 2018).Acting, voice and speech, and movement training are at the center of our B.F.A. in Acting curriculum.  B.F.A students are in at least one acting course every semester during the four-year sequence of courses.  In addition to required courses in Voice and Speech and Movement, support for voice, speech and movement training is offered by faculty with an expertise in these areas visiting acting classes to work with students to apply voice, speech and movement techniques to acting techniques being studied.  In addition, study in script analysis, theatre history, and dramatic literature provides support for students to learn how to rehearse a role and develop a character by making acting choices grounded in an understanding of the script, time period, and dramatic style of play. Students are exposed to a wide variety of styles of dramatic literature and learn how theatre and acting performance evolved through history.
B.F.A. in Acting majors explore a diversity of playwrights and acting styles throughout the four years of study:
Year #1: Acting: Process & Technique; Acting: Beginning Scene Study; and Movement I and Movement II
Year #2: Acting: Intermediate Scene Study; Acting: Advanced Scene Study; Voice and Speech for the Actor
Year #3: Advanced Scene Study: Heightened Language & Historical Contexts; Advanced Scene Study: Shakespeare

Year #4: Advanced Acting: Special Topics
The growth and achievement of students is monitored through scene work presented to the performance faculty during the second year of study in the B.F.A. in Acting major.
Please click here for a link to the four year sequence of courses.

PERFORMANCE OPPORTUNITIES
James Cusati-Moyer '11, nominated for a Tony Award for Best Featured Actor in a Play on Broadway for Slave Play (top photo), and seen at Marymount Manhattan College in Time and the Conways (bottom photo; 2011)
Beginning in the Spring semester of the first year, B.F.A. in Acting students audition for Mainstage and Studio productions directed by faculty and guest directors, as well as Directing Projects directed by student directors and Playwriting Projects written by Writing for the Stage students. The MMC Production Committee strives to select a wide variety of productions including premieres of new works, contemporary and period plays, as well as musicals for Mainstage productions in the Theresa Lang Theatre on campus and off-campus at venues such the York Theatre, as well as Studio productions at New York City venues such as National Dance Institute and New York Live Arts, and the Directing Projects and Playwriting Projects in the Bordeau Box Theatre on campus.
NEW YORK CITY AS OUR CAMPUS
Students in the B.F.A. in Acting program truly learn to use New York City as their campus. Whether they are attending shows on Broadway, downtown Manhattan or Brooklyn, doing research at the New York Public Library, or traveling to an off-campus class, our students experience all that the city has to offer.
APPLYING FOR THE B.F.A. IN ACTING
Prospective students for the B.F.A. in Acting must not only satisfy the academic requirements for acceptance to the college, but must audition for the major.
12000
Hear from our Alumni
<span class="lw_profiles_image" style="float: left;"><span class="lw_item_thumb"><a href="/live/profiles/3312-william-demeritt-00"><img src="/live/image/gid/95/width/215/height/215/crop/1/src_region/0,0,2133,3200/23120_William_DeMeritt.rev.1571765135.jpg" alt="William DeMeritt '00, B.F.A. in Acting" class="lw_image" width="215" height="215" srcset="/live/image/scale/2x/gid/95/width/215/height/215/crop/1/src_region/0,0,2133,3200/23120_William_DeMeritt.rev.1571765135.jpg 2x, /live/image/scale/3x/gid/95/width/215/height/215/crop/1/src_region/0,0,2133,3200/23120_William_DeMeritt.rev.1571765135.jpg 3x" data-max-w="2133" data-max-h="3200"/></a></span></span><div class="lw_profiles_103 styled-link"><p> "<em>The training I received and the teachers I studied with at MMC were instrumental in preparing me for a career in acting, especially in the theatre. Because of the MMC community, I have met life-long friends, collaborators, and colleagues.</em>"</p><p> – William DeMeritt '00 (Film: HBO's <em>The Normal Heart</em>; TV: <em>Person of Interest</em>, <em>The Outs</em>, <em>Law & Order SVU</em>, <em>Guiding Light</em>, <em>One Life to Live</em>; London: <em>Hamlet</em>; Regional: <em>Shakespeare In Love</em> and <em>The Merry Wives of Windsor,</em> at the<em> </em>Oregon Shakespeare Festival, <em>Sense and Sensibility</em>, at the Dallas Theater Center; M.F.A. Yale School of Drama)</p></div><div class="lw_profiles_name"><a href="/live/profiles/3312-william-demeritt-00">William DeMeritt '00</a></div><div class="lw_profiles_104"><p> 2000, B.F.A. in Acting</p></div>
<span class="lw_profiles_image" style="float: left;"><span class="lw_item_thumb"><a href="/live/profiles/3321-nadia-brown-17"><img src="/live/image/gid/95/width/215/height/215/crop/1/src_region/0,0,1068,725/23146_Nadia_Brown_Headshot_5.rev.1572273161.jpg" alt="Nadia Brown '17" class="lw_image" width="215" height="215" srcset="/live/image/scale/2x/gid/95/width/215/height/215/crop/1/src_region/0,0,1068,725/23146_Nadia_Brown_Headshot_5.rev.1572273161.jpg 2x, /live/image/scale/3x/gid/95/width/215/height/215/crop/1/src_region/0,0,1068,725/23146_Nadia_Brown_Headshot_5.rev.1572273161.jpg 3x" data-max-w="1068" data-max-h="725"/></a></span></span><div class="lw_profiles_103 styled-link"><p> "<em>Thanks to Marymount's BFA Acting program, I have become a disciplined/well-versed actor and a well-rounded human being.  I particularly attribute this to the integration of my liberal arts education. I have carried all of the vocal, movement, and acting techniques I learned in school with me into the professional world, and needless to say, I would not be where I am today without the help of all of my glorious teachers paving the way!</em>"</p><p> – Nadia Brown '17 (Broadway: Rose Granger-Weasley in <em>Harry Potter and the Cursed Child</em>)</p></div><div class="lw_profiles_name"><a href="/live/profiles/3321-nadia-brown-17">Nadia Brown '17</a></div><div class="lw_profiles_104"><p> 2017, B.F.A. in Acting</p></div>
<span class="lw_profiles_image" style="float: left;"><span class="lw_item_thumb"><a href="/live/profiles/3316-ryan-kasprzak-02"><img src="/live/image/gid/95/width/215/height/215/crop/1/src_region/0,0,350,525/23132_Ryan_Kasprzak_1.rev.1571859728.jpg" alt="Ryan Kasprzak '02" class="lw_image" width="215" height="215" data-max-w="350" data-max-h="525"/></a></span></span><div class="lw_profiles_103 styled-link"><p>  </p><p> "<em>… the professors give generously of themselves in the classroom and as lifetime mentors … they encouraged and allowed me to emerge as the artist I was destined to be.</em>"</p><p>  –Ryan Kasprzak '02 (Broadway:  <em>Bandstand</em>; National Tour:  <em>Hamilton</em> and <em>Billy Elliot</em>; TV: <em> </em>Assistant Choreographer, NBC's <em>Smash</em> and <em>So You Think You Can Dance</em>)</p></div><div class="lw_profiles_name"><a href="/live/profiles/3316-ryan-kasprzak-02">Ryan Kasprzak '02</a></div><div class="lw_profiles_104"><p> 2002, B.F.A. in Acting</p></div>
<span class="lw_profiles_image" style="float: left;"><span class="lw_item_thumb"><a href="/live/profiles/3164-james-cusati-moyer-11"><img src="/live/image/gid/95/width/215/height/215/crop/1/src_region/0,0,1082,1623/23123_James_Cusati-Moyer_2.rev.1571790266.jpg" alt="James Cusati-Moyer" class="lw_image" width="215" height="215" srcset="/live/image/scale/2x/gid/95/width/215/height/215/crop/1/src_region/0,0,1082,1623/23123_James_Cusati-Moyer_2.rev.1571790266.jpg 2x, /live/image/scale/3x/gid/95/width/215/height/215/crop/1/src_region/0,0,1082,1623/23123_James_Cusati-Moyer_2.rev.1571790266.jpg 3x" data-max-w="1082" data-max-h="1623"/></a></span></span><div class="lw_profiles_103 styled-link"><p><em>"MMC, with its strong liberal arts foundation and passionate faculty, provided me with the opportunity to grow…as an artist and as a human being…opening my eyes to imagine my future…with curiosity, hope and a viewpoint of limitless possibilities." </em></p><p><em>–</em> James Cusati-Moyer '11 (Broadway:  <em>Slave Play</em> and <em>Six Degrees of Separation</em>.  Off-Broadway:  <em>Fire and Air</em>, at Classic Stage Company;  Regional:  Portland Stage Company and Williamstown Theatre Festival; M.F.A. Yale School of Drama)</p></div><div class="lw_profiles_name"><a href="/live/profiles/3164-james-cusati-moyer-11">James Cusati-Moyer '11</a></div><div class="lw_profiles_104"><p> Class of 2011, <a href="/departments/theatre-arts/bfa-in-acting.php">BFA in Acting</a></p></div>
<span class="lw_profiles_image" style="float: left;"><span class="lw_item_thumb"><a href="/live/profiles/3183-dan-bittner-04"><img src="/live/image/gid/95/width/215/height/215/crop/1/src_region/121,0,1479,1357/22047_Dan.rev.1560438489.jpg" alt="Dan Bittner '04" class="lw_image" width="215" height="215" srcset="/live/image/scale/2x/gid/95/width/215/height/215/crop/1/src_region/121,0,1479,1357/22047_Dan.rev.1560438489.jpg 2x, /live/image/scale/3x/gid/95/width/215/height/215/crop/1/src_region/121,0,1479,1357/22047_Dan.rev.1560438489.jpg 3x" data-max-w="1358" data-max-h="1357"/></a></span></span><div class="lw_profiles_103 styled-link"><p class="normal"> "<em>A true testament to a school is its teachers. I was trained by teachers that I will consider mentors for the rest of my life. Plus, I got to go to college in NYC!</em>"</p><p class="normal"> – Dan Bittner '04 (Broadway: <em>The Vertical Hour</em>; Film: <em>That Awkward Moment</em>, <em>The Producers</em>, and <em>The Wolf of Wall Street</em>; TV:  <em>Blue Bloods</em>, <em>The Good Wife</em>, <em>The Leftovers</em>, <em>Elementary</em>, <em>Person of Interest</em>, and <em>Law & Order</em>.)</p></div><div class="lw_profiles_name"><a href="/live/profiles/3183-dan-bittner-04">Dan Bittner '04</a></div><div class="lw_profiles_104"><p> Class of 2004, BFA in <a href="/departments/theatre-arts/bfa-in-acting.php">Acting</a> major</p></div>
<span class="lw_profiles_image" style="float: left;"><span class="lw_item_thumb"><a href="/live/profiles/3192-matthew-rodrigues-04"><img src="/live/image/gid/95/width/215/height/215/crop/1/src_region/0,0,349,349/23124_Matthew_Rodriguez.rev.1571792063.png" alt="Matthew Rodriguez" class="lw_image" width="215" height="215" data-max-w="349" data-max-h="349"/></a></span></span><div class="lw_profiles_103 styled-link"><p><em>"Studying theatre helped me to discover and explore all the different parts of my personality and gave me confidence to make bold choices. The actor in me loves to bring a lot of energy, physicality, and humor to my hosting work."     </em></p><p><em>–</em> Matthew Rodriguez '04 (A longtime staple of the Hollywood entertainment scene as anchor of the celebrity and lifestyle TV program <em>POPSUGAR</em> and as a live broadcast reporter from the <em>Academy Awards</em>.  He's worked with leading names in the industry such as Hilton, Cirque du Soleil, CBS's <em>The Talk</em>, <em>Wanderlust</em>, ABC's <em>The View</em> and FOX.)</p></div><div class="lw_profiles_name"><a href="/live/profiles/3192-matthew-rodrigues-04">Matthew Rodrigues '04</a></div><div class="lw_profiles_104"><p> Class of 2004, B.F.A. in Acting major</p></div>