PROGRAM OVERVIEW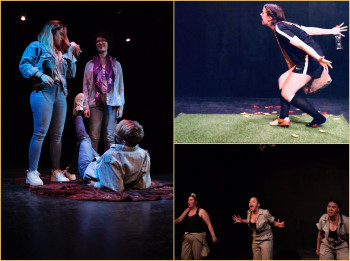 Fall 2019 Advance Playwriting Projects in the J. William Bordeau Box TheatreThe Writing for the Stage concentration in the B.A. in Theatre Arts major offers students the opportunity to study with professional playwrights based in New York City and to begin to develop a body of work to prepare for professional careers as writers for theatre, performance, and digital content.  Students are able to establish professional contacts and obtain internships with New York City theatres that are committed to developing new plays.  The small sizes of our classes in playwriting allow students to be mentored by our faculty and to interact closely with fellow students.  We combine the study of playwriting with an exceptional liberal arts education preparing students for successful professional careers while also offering the education needed to be global citizens and contributors to society.
OUR WRITING FOR THE STAGE CURRICULUM
The Writing for the Stage concentration focuses first and foremost on creating a community that is safe, inclusive and encouraging. Our program elevates respect and collaboration in order to empower writers to let their true voice land on the page and ultimately in front of an audience.
For the first four semesters of playwriting, writers are immersed in the study of core concepts such as world, character, conflict, sequence and language through both written and physical exercises. Simultaneously writers are exploring issues of identity, race, gender, class and social justice in their own work as well as in the work of established and emerging writers.
For the next four semesters, playwrights build on their knowledge and understanding to explore the very nature of what writing a play means to them. Do they want to write well-made plays? Do they want to write ill-behaved plays? Do they want to write some kind of hybrid of the two? Anything is possible.
View the curriculum requirements
WRITING FOR THE STAGE PRODUCTION OPPORTUNITIES
Every student in the program completes a full-length play and in their final year has a 20-minute play produced as a Playwriting Project in the Bordeau Box Theatre, directed by faculty.
Along with these production opportunities, students have a variety of opportunities to see their work on its feet through in-class readings and workshops as well as numerous short play festivals and student produced events. In addition, writers learn about the professional playwriting careers through class assignments, connecting with alumni who are working in the field, as well as through opportunities to intern at one of the many theatres that focus on new play development in New York City. Writers are also encouraged to explore other forms of writing for performance, including film, TV, and digital media.
NEW YORK CITY AS OUR CAMPUS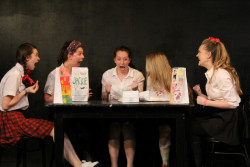 An Advanced Playwriting project performed in the College's Bordeau Box Theatre.Students in the Writing for the Stage concentration truly learn to use New York City as their campus. Whether they are attending productions on or off-Broadway, in venues in downtown Manhattan or Brooklyn, doing research at the New York Public Library, or traveling to an off-campus internship, our students experience all that the city has to offer.
APPLYING FOR WRITING FOR THE STAGE AT MMC
Applicants to the Writing for the Stage concentration are required to prepare the following materials for an in-person interview.
Resume
Portfolio of work (sample of full length or one-act play, short scenes, creative writing samples, poetry, etc.)
Be prepared to talk about anything that speaks to who you are as a Playwright and Theatre Artist.
Apply to Writing for the Stage
12000
Hear from our Alumni
<span class="lw_profiles_image" style="float: left;"><span class="lw_item_thumb"><a href="/live/profiles/3334-shelby-solla-18"><img src="/live/image/gid/95/width/215/height/215/crop/1/src_region/0,0,240,301/23192_Shelby_Solla.rev.1572789945.jpg" alt="Shelby Solla '18" class="lw_image" width="215" height="215" data-max-w="240" data-max-h="301"/></a></span></span><div class="lw_profiles_103 styled-link"><p> "<em>When I started at MMC as a Playwriting major, I knew that I loved writing and theatre, but had never written a play and had no idea where to start. My classes at MMC taught me the skills I needed to piece together my playwriting tool belt, discover my creative process, and establish my individual voice as a writer. Having companions for two full years who felt the same growing pains was incredibly important and provided me with a built-in support system for post-grad. Now, as an alumni, I see how fortunate I was to have been part of a program that not only helped to shape my creative identity, but also gave me the opportunities and savvy to take on the professional world confidently.</em>"</p><p> – Shelby Solla '18</p></div><div class="lw_profiles_name"><a href="/live/profiles/3334-shelby-solla-18">Shelby Solla '18</a></div><div class="lw_profiles_104"><p> 2018, B.A. in Theatre Arts (Writing for the Stage)</p></div>
<span class="lw_profiles_image" style="float: left;"><span class="lw_item_thumb"><a href="/live/profiles/3468-monet-hurst-mendoza-09"><img src="/live/image/gid/95/width/215/height/215/crop/1/src_region/0,0,2559,2559/23866_Monet.rev.1581006063.jpg" alt="Monet Hurst Mendoza" class="lw_image" width="215" height="215" srcset="/live/image/scale/2x/gid/95/width/215/height/215/crop/1/src_region/0,0,2559,2559/23866_Monet.rev.1581006063.jpg 2x, /live/image/scale/3x/gid/95/width/215/height/215/crop/1/src_region/0,0,2559,2559/23866_Monet.rev.1581006063.jpg 3x" data-max-w="2559" data-max-h="2559"/></a></span></span><div class="lw_profiles_103 styled-link"><p><em>"The Theatre Program at MMC fostered the development of strong artistic relationships with fellow writers, directors, actors, and producers who have become true collaborators and the cornerstone of my artistic community in NYC beyond graduation."</em></p><p> -<strong>Monet Hurst-Mendoza '09</strong>, Playwright, Director, and Theatre Producer</p></div><div class="lw_profiles_name"><a href="/live/profiles/3468-monet-hurst-mendoza-09">Monet Hurst-Mendoza '09</a></div><div class="lw_profiles_104"><p> Class of 2009, Major in <a href="/departments/theatre-arts/">Theatre Arts</a>, Concentrations in <a href="/departments/theatre-arts/ba-program/writing-for-the-stage.php">Writing for the Stage</a> and <a href="/departments/theatre-arts/ba-program/directing.php">Directing</a></p></div>
<span class="lw_profiles_image" style="float: left;"><span class="lw_item_thumb"><a href="/live/profiles/3333-zoe-kamil-18"><img src="/live/image/gid/95/width/215/height/215/crop/1/src_region/40,207,1272,1440/23191_Zoe_Kamil_headshot.rev.1572789459.jpg" alt="Zoe Kamil '18" class="lw_image" width="215" height="215" srcset="/live/image/scale/2x/gid/95/width/215/height/215/crop/1/src_region/40,207,1272,1440/23191_Zoe_Kamil_headshot.rev.1572789459.jpg 2x, /live/image/scale/3x/gid/95/width/215/height/215/crop/1/src_region/40,207,1272,1440/23191_Zoe_Kamil_headshot.rev.1572789459.jpg 3x" data-max-w="1232" data-max-h="1233"/></a></span></span><div class="lw_profiles_103 styled-link"><p> "<em>Playwriting at Marymount Manhattan enabled me to form the most incredible relationships. The small class sizes and culture cultivated by faculty encouraged genuine connection between myself and my classmates, and I always felt like we had each other's backs creatively and beyond.</em>"</p><p> – Zoe Kamil '18</p></div><div class="lw_profiles_name"><a href="/live/profiles/3333-zoe-kamil-18">Zoe Kamil '18</a></div><div class="lw_profiles_104"><p> 2018, B.A. in Theatre Arts (Writing for the Stage)</p></div>
<span class="lw_profiles_image" style="float: left;"><span class="lw_item_thumb"><a href="/live/profiles/3335-rodolfo-soto-17"><img src="/live/image/gid/95/width/215/height/215/crop/1/src_region/0,44,2133,2176/23193_rodolfo-soto-9044.rev.1572790244.jpg" alt="Rodolfo Soto '17" class="lw_image" width="215" height="215" srcset="/live/image/scale/2x/gid/95/width/215/height/215/crop/1/src_region/0,44,2133,2176/23193_rodolfo-soto-9044.rev.1572790244.jpg 2x, /live/image/scale/3x/gid/95/width/215/height/215/crop/1/src_region/0,44,2133,2176/23193_rodolfo-soto-9044.rev.1572790244.jpg 3x" data-max-w="2133" data-max-h="2132"/></a></span></span><div class="lw_profiles_103 styled-link"><p> "<em>Playwriting at Marymount Manhattan challenged and molded me into the artist I am today, while also giving me the tools to be the artist I dream of being tomorrow. I couldn't be grateful enough for my experience and the support system I feel I still have even two years after graduation.</em>"</p><p> – Rodolfo Soto'17 </p></div><div class="lw_profiles_name"><a href="/live/profiles/3335-rodolfo-soto-17">Rodolfo Soto '17</a></div><div class="lw_profiles_104"><p> 2017, B.F.A. in Acting and Writing for the Stage</p></div>
<span class="lw_profiles_image" style="float: left;"><span class="lw_item_thumb"><a href="/live/profiles/3337-craig-long-19"><img src="/live/image/gid/95/width/215/height/215/crop/1/src_region/0,0,960,960/23195_Craig_Long.rev.1572790866.jpg" alt="Craig Long '19" class="lw_image" width="215" height="215" srcset="/live/image/scale/2x/gid/95/width/215/height/215/crop/1/src_region/0,0,960,960/23195_Craig_Long.rev.1572790866.jpg 2x, /live/image/scale/3x/gid/95/width/215/height/215/crop/1/src_region/0,0,960,960/23195_Craig_Long.rev.1572790866.jpg 3x" data-max-w="960" data-max-h="960"/></a></span></span><div class="lw_profiles_103 styled-link"><p> "<em>Some of my favorite college memories happened in the Playwriting classes at Marymount Manhattan. MMC's Writing for the Stage concentration helped me find and refine my voice as an artist. It not only gave me a better appreciation of the mechanics and technique of writing, but for the power of the art form itself. The professors always worked with us individually, continuously challenging and helping us explore within our own interests. The network of other students in the classes also helped and inspired me to grow every week. One of the best experiences offered to us was being able to produce a one-act of our own work in the Playwriting Projects. It was a great culmination and an incredible learning opportunity, connecting us with experienced professional directors. </em><em>The Writing for the Stage concentration fostered in me a love for the craft of playwriting and gave me countless skills that I use every day in my artistic journey</em>."</p><p> – Craig Long '19</p></div><div class="lw_profiles_name"><a href="/live/profiles/3337-craig-long-19">Craig Long '19</a></div><div class="lw_profiles_104"><p> 2019, B.F.A. in Acting and Writing for the Stage</p></div>