Our Biology Post-Baccalaureate Program is a non-degree-granting program designed for college graduates who wish to fulfill pre-med, pre-dental, and other pre-health course requirements. Post-bac students receive individual attention from expert professors in a close-knit liberal arts environment, right in the heart of New York City.
Attend our upcoming virtual information sessions on Tuesday, May 25, at 6:00 pm: https://apply.mmm.edu/register/biopostbac3.

Our post-bac program features:
 A customized academic plan devised for each student based on academic background and career goals.*

 No waitlist for courses.

 Small classes (<20 students) taught only by faculty (no teaching assistants).

 Max. of 12 students per lab section.

 Students work individually in the labs to foster independence and mastery of techniques.

 Students have a science faculty member as their own advisor.

 A pre-health committee of faculty members guides students in career goals, entrance exam preparation, and application and reference letter processes.**

 Opportunities to conduct research.

 Access to an extensive alumni network in the biomedical field.

Priority applications to the Touro College of Osteopathic Medicine and the Touro College of Pharmacy through our partnership agreements.
We offer course sequences appropriate for M.D., D.O., P.A., P.T., R.N., D.V.M., D.D.S., and other allied health programs. Post-bacs choose from an array of biology, chemistry, physics, and math courses. We work closely with post-bacs to determine appropriate placement into courses based on academic experience and career goals. The program provides excellent preparation for pre-med and other pre-health post-bacs. See the course bulletin for upcoming offerings.
Eligibility for the Biology Post-Bac Program is evaluated on an individual basis according to each student's undergraduate transcript and career goal. Please see our list of FAQs and check out some of our current post-bacs. 
Biology Post-Bac Program tuition is a flat rate of $875/credit, regardless of number of credits. A required deposit of $200 will be deducted from your first tuition bill. Alumni of Marymount Manhattan College are eligible for discounted tuition.
*Plan will be devised following admission to the program and receipt of deposit.
**Committee support requires successful completion of at least 15 credits at MMC.


Apply Now Request More Info   View Brochure
For information about the Biology Post-Bac Program, please contact Admissions Counselor Emma Kamen.
The Coordinator of the Biology Post-Bac Program is Dr. Ann Aguanno:

Ann Aguanno

Chair of the Department of Natural Sciences
Professor of Biology and Coordinator, Biology Post Bac Progams
She/Her/Hers

212-774-4838
---
About the Program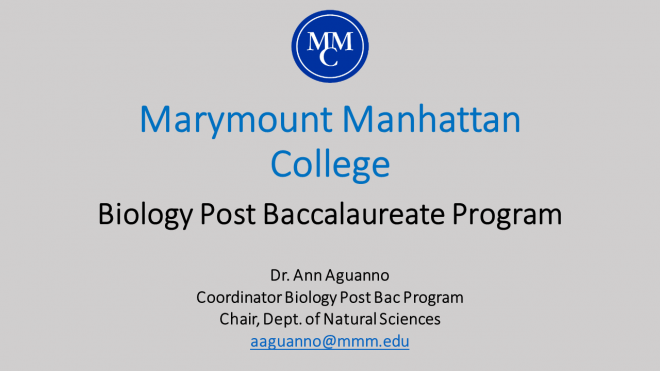 5000
Bio Post-Bac Program Slideshow
---
Faces of MMC
<span class="lw_profiles_image" style="float: left;"><span class="lw_item_thumb"><a href="/live/profiles/3406-shaista-shoukat"><img src="/live/image/gid/108/width/215/src_region/416,659,2387,2630/23625_Shaista_Shoukat.rev.1576509666.JPG" alt="Shaista Shoukat, Biology Post-Bac" class="lw_image" width="215"/></a></span></span><div class="lw_profiles_103 styled-link"><p> I joined the Biology Post-Bac program for the purpose of retaking science classes needed for med school. I wanted to enhance my application by showing I can improve in something that I once lacked in. Joining this program has been such a great privilege as I am receiving individual help whenever needed. Coming from a big college during my undergrad, I always felt lost in the big lecture halls. But at this program, I feel like I have finally found the right path and guidance. </p></div><div class="lw_profiles_name"><a href="/live/profiles/3406-shaista-shoukat">Shaista Shoukat</a></div><div class="lw_profiles_104"><p> Biology Post-Bac, 2019-2021</p></div>
<span class="lw_profiles_image" style="float: left;"><span class="lw_item_thumb"><a href="/live/profiles/3405-abe-libman"><img src="/live/image/gid/108/width/215/src_region/0,0,932,1219/23630_Abe.rev.1576511820.jpg" alt="Abe Libman, Biology Post-Bac" class="lw_image" width="215"/></a></span></span><div class="lw_profiles_103 styled-link"><p><em>"I love the warm, welcoming, and supportive community here at MMC! I believe that the small class sizes, individualized attention, and excellent facilities are exactly what I need to help me succeed in my aspirations to go to medical school. Coming from a large university where competition was intense and the professors hardly knew their students, I have been so pleasantly surprised by the dynamic here at MMC. As an added bonus, they have wonderful extra-curricular programs, and great food! I would highly recommend this program to anyone interested."</em></p></div><div class="lw_profiles_name"><a href="/live/profiles/3405-abe-libman">Abe Libman</a></div><div class="lw_profiles_104"><p> Biology Post-Bac, 2019-2021</p></div>