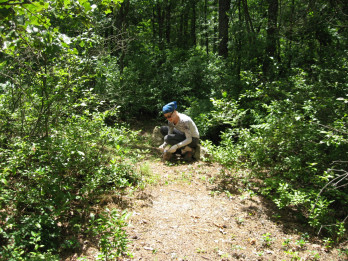 Whether you want to pursue medical or graduate school, or start working with your Bachelor's degree, one of our Biology majors will be right for you.
Our B.S. in Biology prepares you to become a research scientist or to enter graduate school in any field of life science. It also provides the foundation for entrance to medical, dental, veterinary, or physician assistant programs.
Our B.A. in Biology is an excellent choice for those seeking a career in other health science professions, like physical or occupational therapy. 
Biology B.S. Requirements  | Biology B.A. Requirements
MMC offers a real opportunity to distinguish yourself as an undergraduate, through small classes, research with faculty, and the best biomedical internships in New York City. Students who complete a senior thesis graduate with Honors in the major. As a result of these experiences, our alumni have excellent outcomes. To see what it's like to be a Biology student here, check out our student blog.
The Department of Natural Sciences has academic linkages with the Touro College of Osteopathic Medicine and the Touro College of Pharmacy.
Admission to our Biology programs is selective. For more information on admission requirements, contact Prof. Ann Aguanno.
---
Faces of MMC
<span class="lw_profiles_image" style="float: left;"><span class="lw_item_thumb"><a href="/live/profiles/3212-beatriz-morocho-16"><img src="/live/image/gid/108/width/215/src_region/0,0,2400,2400/23705_Beatriz.rev.1579634825.jpg" alt="Beatriz Morocho '16" class="lw_image" width="215"/></a></span></span><div class="lw_profiles_103 styled-link"><p><span dir="ltr">I am currently into my second semester in my studies for my Pharm.D. at Touro College of Pharmacy. The course material is slowly picking up, but I feel extremely prepared to tackle it. I would like to express my gratitude to everyone in the Biology department for shaping me as student and teaching me everything there is to know for the future.</span></p></div><div class="lw_profiles_name"><a href="/live/profiles/3212-beatriz-morocho-16">Beatriz Morocho '16</a></div><div class="lw_profiles_104"><p> Class of 2016, Major in Biology</p></div>
<span class="lw_profiles_image" style="float: left;"><span class="lw_item_thumb"><a href="/live/profiles/3193-simran-sahansra-21"><img src="/live/image/gid/108/width/215/src_region/371,339,1996,1964/22063_IMG_4272.rev.1560511597.jpg" alt="Biology major Simran Sahansra '21" class="lw_image" width="215"/></a></span></span><div class="lw_profiles_103 styled-link"><p> "I have been interning at New York University Langone Health Center's Environmental Pediatrics Department to aid in their Children's Health and Environment Study (CHES). This study is the initial part of the larger NIH-funded Environmental influences on Child Health Outcomes (ECHO) study, which aims to shed light on how environmental exposures during early life can impact long-term child health outcomes." </p></div><div class="lw_profiles_name"><a href="/live/profiles/3193-simran-sahansra-21">Simran Sahansra '21</a></div><div class="lw_profiles_104"><p> Class of 2021, Major in Biology</p></div>
<span class="lw_profiles_image" style="float: left;"><span class="lw_item_thumb"><a href="/live/profiles/885-olympia-gaglioti-12"><img src="/live/image/gid/108/width/215/src_region/0,19,237,257/6597_olympia.rev.1472490807.jpg" alt="Olympia G" class="lw_image" width="215"/></a></span></span><div class="lw_profiles_103 styled-link"><p><em>"The rigorous curriculum taught me how to study and manage my time. The small class sizes allowed me to know my professors as people, not just educators, so much so that one interviewer commented that my letter of recommendation was one of the best they've ever read."</em></p></div><div class="lw_profiles_name"><a href="/live/profiles/885-olympia-gaglioti-12">Olympia Gaglioti '12</a></div><div class="lw_profiles_104"><p> Class of 2012, Major in <a href="/departments/natural-sciences/major-biology.php">Biology</a></p></div>
<span class="lw_profiles_image" style="float: left;"><span class="lw_item_thumb"><a href="/live/profiles/2280-elevit-perez-17"><img src="/live/image/gid/108/width/215/src_region/0,0,3200,2129/16578_Perez_Elevit_170809_04.rev.1517346023.jpg" alt="Biology Alumnus Elevit Perez '17" class="lw_image" width="215"/></a></span></span><div class="lw_profiles_103 styled-link"><p><em>"MMC allowed me to establish close and lasting relationships with my professors through an intimate and challenging learning environment. As a result of my hard work and the support I received throughout my undergraduate years, I am currently working as a research technician at Memorial Sloan Kettering Cancer Center, where I am able to apply lab techniques and skills from my education and hands-on experience at MMC. It was an honor to be taught and work alongside such brilliant educators."</em></p></div><div class="lw_profiles_name"><a href="/live/profiles/2280-elevit-perez-17">Elevit Perez '17</a></div><div class="lw_profiles_104"><p> Class of 2017, Major in <a href="/departments/natural-sciences/major-biology.php" target="_blank" rel="noopener noreferrer">Biology</a>, Minor in <a href="/departments/natural-sciences/minors/chemistry.php" target="_blank" rel="noopener noreferrer">Chemistry</a></p></div>
<span class="lw_profiles_image" style="float: left;"><span class="lw_item_thumb"><a href="/live/profiles/1407-raymond-romano-11"><img src="/live/image/gid/108/width/215/src_region/0,0,2048,1990/11232_romano_raymond_1508-01.rev.1472490806.jpg" alt="Raymond Romano" class="lw_image" width="215"/></a></span></span><div class="lw_profiles_103 styled-link"><p><em>"Few of my graduate student colleagues can say they had such a fruitful undergraduate experience compared to me. While at MMC, I was able to present seven scientific posters at regional and national conferences. I had the opportunity to participate in two academic talks, and I was also co-author of one publication on organ donation. Since leaving MMC, I have used the skills daily that were taught to me by MMC faculty, ranging from time-management, to critical thinking, and applying concepts of physiology." </em></p></div><div class="lw_profiles_name"><a href="/live/profiles/1407-raymond-romano-11">Raymond Romano '11</a></div><div class="lw_profiles_104"><p> Class of 2011, Major in <a href="/departments/natural-sciences/major-biology.php" target="_blank" rel="noopener noreferrer">Biology</a></p></div>
<span class="lw_profiles_image" style="float: left;"><span class="lw_item_thumb"><a href="/live/profiles/815-danielle-khost-13"><img src="/live/image/gid/108/width/215/src_region/0,57,423,481/19742_Danielle_Khost.rev.1544725010.jpg" alt="Danielle Khost '13" class="lw_image" width="215"/></a></span></span><div class="lw_profiles_103 styled-link"><p><em>"When I was at Marymount Manhattan, I worked in Dr. Aguanno's lab for three years, during which time I designed experiments for the lab's research project, assembled formal scientific posters presenting my data, and attended numerous professional meetings at the national level. It took me a long time to realize how unusual it was as an undergrad to have so much agency in my research, and it gave me a tremendous advantage in making the transition to grad school."</em></p></div><div class="lw_profiles_name"><a href="/live/profiles/815-danielle-khost-13">Danielle Khost '13</a></div><div class="lw_profiles_104"><p> Class of 2013, Major in <a href="/departments/natural-sciences/major-biology.php">Biology</a></p></div>
<span class="lw_profiles_image" style="float: left;"><span class="lw_item_thumb"><a href="/live/profiles/2295-sabrina-shapiro-09"><img src="/live/image/gid/108/width/215/src_region/366,15,1280,929/16830_IMG_3254.rev.1521078987.jpg" alt="Sabrina Shapiro '09" class="lw_image" width="215"/></a></span></span><div class="lw_profiles_103 styled-link"><p><em>"I had the unique opportunity at Marymount Manhattan College to double major in Biology and Dance. The small class sizes and strong relationships between the students and faculty provided an encouraging and close-knit environment. The program brought out the best of me as a student, a scientist and a human being. My experience has inspired me to continue with my studies, even a decade after graduation!" </em></p></div><div class="lw_profiles_name"><a href="/live/profiles/2295-sabrina-shapiro-09">Sabrina Shapiro '09</a></div><div class="lw_profiles_104"><p> Class of 2009, Double Major in <a href="/departments/natural-sciences/major-biology.php" target="_blank" rel="noopener noreferrer">Biology</a> and <a href="/departments/dance/" target="_blank" rel="noopener noreferrer">Dance</a></p></div>
<span class="lw_profiles_image" style="float: left;"><span class="lw_item_thumb"><a href="/live/profiles/818-kirtan-kaur-12"><img src="/live/image/gid/108/width/215/src_region/16,91,1440,1516/7408_6032_kaur.rev.1472490808.jpg" alt="Kirtan Kaur '12" class="lw_image" width="215"/></a></span></span><div class="lw_profiles_103 styled-link"><p><em>"Today as I sit in my graduate level classes and begin my thesis research, I look back and realize how fortunate I am to have picked MMC for my Biology degree.  I owe it to the extraordinary faculty at MMC who have given me a strong foundation in science through patient, challenging, one-on-one teaching that I would not have found anywhere else!  MMC is a great college to attend if you want to experience rigor, opportunities, and a small, close-knit science community."</em></p></div><div class="lw_profiles_name"><a href="/live/profiles/818-kirtan-kaur-12">Kirtan Kaur '12</a></div><div class="lw_profiles_104"><p> Class of 2012, Major in <a href="/departments/natural-sciences/major-biology.php">Biology</a> with Minor in <a href="/departments/natural-sciences/major-environmental-studies.php" target="_blank" rel="noopener noreferrer">Environmental Studies</a></p></div>
<span class="lw_profiles_image" style="float: left;"><span class="lw_item_thumb"><a href="/live/profiles/3923-brandon-tran-20"><img src="/live/image/gid/108/width/215/src_region/0,422,1064,1487/17208_IMG_20180309_152017.rev.1524495905.jpg" alt="Brandon Tran '20" class="lw_image" width="215"/></a></span></span><div class="lw_profiles_103 styled-link"><p> The job offer I recently accepted was for the position of Research Technician II at Houston Methodist Research Institute. I am working in the Tang Laboratory and aiding in research about Chronic Lymphocytic Leukemia. </p></div><div class="lw_profiles_name"><a href="/live/profiles/3923-brandon-tran-20">Brandon Tran '20</a></div><div class="lw_profiles_104"><p> Class of 2020, Major in <a href="/departments/natural-sciences/major-biology.php" target="_blank" rel="noopener">Biology</a></p></div>
<span class="lw_profiles_image" style="float: left;"><span class="lw_item_thumb"><a href="/live/profiles/3195-noelia-tavarez-21"><img src="/live/image/gid/108/width/215/src_region/0,0,1899,1851/22109_IMG_0885_2.rev.1562599813.JPG" alt="Noelia Tavarez" class="lw_image" width="215"/></a></span></span><div class="lw_profiles_103 styled-link"><p> "My research internship at NYU Langone Medical Center actually turned into a full-time job."</p></div><div class="lw_profiles_name"><a href="/live/profiles/3195-noelia-tavarez-21">Noelia Tavarez '21</a></div><div class="lw_profiles_104"><p> Class of 2021, Double Major in Biology and Business Entrepreneurship</p></div>
<span class="lw_profiles_image" style="float: left;"><span class="lw_item_thumb"><a href="/live/profiles/1540-victoria-mcilrath-15"><img src="/live/image/gid/108/width/215/src_region/137,0,1917,1780/12683_drexel_photo.rev.1458251526.jpg" alt="Victoria McIlrath '15" class="lw_image" width="215"/></a></span></span><div class="lw_profiles_103 styled-link"><p><em>"Currently in graduate school, I am enrolled in a rigorous class in which students present published scientific literature. Because of <a href="https://www.mmm.edu/live/profiles/88-ann-aguanno" target="_blank" rel="noopener noreferrer">Dr. Ann Aguanno</a>'s senior seminar class that I completed at MMC, I have the knowledge and skill set required to understand, communicate and present the ideas and data of primary literature. My current success is a product of the exceptional teaching and guidance offered by MMC's teaching faculty."</em></p></div><div class="lw_profiles_name"><a href="/live/profiles/1540-victoria-mcilrath-15">Victoria McIlrath '15</a></div><div class="lw_profiles_104"><p> Class of 2015, Major in <a href="/departments/natural-sciences/major-biology.php" target="_blank" rel="noopener noreferrer">Biology</a></p></div>
<span class="lw_profiles_image" style="float: left;"><span class="lw_item_thumb"><a href="/live/profiles/816-devin-columbus-09"><img src="/live/image/gid/108/width/215/src_region/116,82,413,379/6607_devin.rev.1472490807.jpg" alt="Devin Columbus '09" class="lw_image" width="215"/></a></span></span><div class="lw_profiles_103 styled-link"><p><em>"As a bio major at MMC, I was continuously challenged and encouraged by my faculty and peers. Whether I was studying, conducting research, or discussing random scientific topics after class, the bio department was like a second home throughout my college years.  The skills and knowledge I gained during this time continue to filter into my daily professional life, and the relationships I fostered remain invaluable."</em></p></div><div class="lw_profiles_name"><a href="/live/profiles/816-devin-columbus-09">Devin Columbus '09</a></div><div class="lw_profiles_104"><p> Class of 2009, Major in <a href="/departments/natural-sciences/major-biology.php">Biology</a></p></div>
<span class="lw_profiles_image" style="float: left;"><span class="lw_item_thumb"><a href="/live/profiles/814-zach-barbati-10"><img src="/live/image/gid/108/width/215/src_region/146,0,747,601/6728_zach.rev.1472490807.jpg" alt="Zach Barbati '10" class="lw_image" width="215"/></a></span></span><div class="lw_profiles_103 styled-link"><p><em>"My experience at Marymount Manhattan College challenged me not only to study the basic sciences in a typical linear sequence, but rather to integrate coursework in sociology, language, and philosophy into the Biology major courses. Furthermore, I felt challenged by my mentors to continually revisit foundational concepts in advanced classes, so as to reinforce key concepts that are important for developing a strong foundation in the biological sciences."</em></p></div><div class="lw_profiles_name"><a href="/live/profiles/814-zach-barbati-10">Zach Barbati '10</a></div><div class="lw_profiles_104"><p> Class of 2010, Major in <a href="/departments/natural-sciences/major-biology.php">Biology</a></p></div>
<span class="lw_profiles_image" style="float: left;"><span class="lw_item_thumb"><a href="/live/profiles/3922-julia-furnari-20"><img src="/live/image/gid/108/width/215/src_region/0,0,2316,3088/25373_IMG_0762.rev.1611593198.jpg" alt="Julia Furnari '20" class="lw_image" width="215"/></a></span></span><div class="lw_profiles_103 styled-link"><p dir="ltr"><em>"I graduated in May 2020 and was hired by Columbia University Irving Medical Center as a Research Technician in the Department of Neurosurgery. I am the Tumor Bank Technician for the Gabriele Bartoli Brain Tumor Research Laboratory."</em></p></div><div class="lw_profiles_name"><a href="/live/profiles/3922-julia-furnari-20">Julia Furnari '20</a></div><div class="lw_profiles_104"><p> Class of 2020, Major in <a href="/departments/natural-sciences/major-biology.php" target="_blank" rel="noopener">Biology</a></p></div>
<span class="lw_profiles_image" style="float: left;"><span class="lw_item_thumb"><a href="/live/profiles/1729-alice-trye-15"><img src="/live/image/gid/108/width/215/src_region/76,80,290,294/13853_alice.rev.1473748058.jpg" alt="Alice Trye '15" class="lw_image" width="215"/></a></span></span><div class="lw_profiles_103 styled-link"><p><em>"MMC Biology prepared me for graduate medical education with its rigorous curriculum and supportive faculty. I would not have made it this far without the education I received in the small classes. My research experience set me apart from other applicants when I was applying for jobs and med school. I look forward to continuing my journey to becoming a physician."</em></p></div><div class="lw_profiles_name"><a href="/live/profiles/1729-alice-trye-15">Alice Trye '15</a></div><div class="lw_profiles_104"><p> Class of 2015, Bachelor of Science in <a href="/departments/natural-sciences/major-biology.php" target="_blank" rel="noopener noreferrer">Biology</a></p></div>
---
Contact Us
For more information on our Biology programs, contact:

Ann Aguanno

Chair of the Department of Natural Sciences
Professor of Biology and Coordinator, Biology Post Bac Progams
She/Her/Hers

212-774-4838