Textbooks & Online Bookstore
Select and order textbooks online through the Marymount Manhattan College Online Bookstore . 
Created in partnership with Akademos, Inc. and powered by TextbookX, the Online Bookstore simplifies the textbook process for students and professors.
---
What's in it for Students
Quick ordering process – complete your purchase in

5 minutes!
New, used, eBook, & rental

textbook formats

An average

savings of 60%

off list price when shopping the Marketplace

Price Match Guarantee

on all new books

Free shipping

on select retail orders over $49 

Year-round ability to post and sell textbooks on the website's Marketplace – you name the price!


Resources for Students
How to use the bookstore
All courses, required materials, and pricing options are displayed in a personalized, easy-to-use page when you log in with your student account.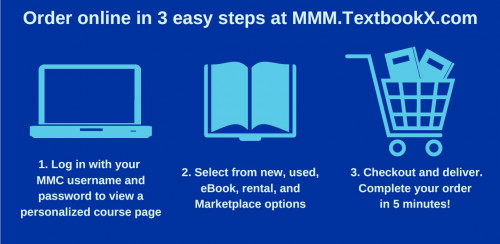 Order early to take advantage of the great savings opportunities and free delivery options. Visit the website today: MMM.TextbookX.com 
 Need more help? Click here for the Textbook Ordering Guide  or check out this informational video:
Faculty Resources
1. Instruction Manual for Faculty
2. More information about creating coursepacks
4. Video instructions for posting textbooks
---
Need Help? Contact the Bookstore's Customer Service team: MMM.TextbookX.com/Help or call 800-887-6459